Your support will help us build and maintain top-tier facilities where students can gain advanced skills, collaborate with each other and connect with faculty.
We seek donor support in these key areas.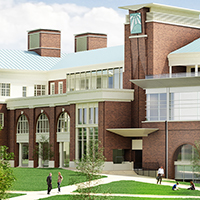 Academic East
The 78,000-square-foot facility with classrooms, offices and labs for engineering and education will be located opposite Academic West. It will serve as a new nexus for interdisciplinary collaboration and strengthen the Bucknell-Geisinger Research Initiative. Plans for Academic East include four classrooms, 25 labs and more than 30 offices.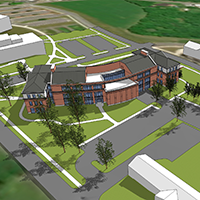 Freeman College of Management
A pivotal juncture in the history of management at Bucknell creates opportunities to support three key priorities.
Establish a new facility featuring classrooms with leading edge technology, student spaces for project work and shared common spaces
Grow faculty excellence to address new and emerging needs
Make an immediate impact on students and respond swiftly to opportunities by supporting the Freeman College of Management Fund